Bespoke Tabletops
DeFrae are experts in the design and manufacture of bespoke tabletops cut to size for your restaurant, hotel, bar or coffee shop.
Bespoke Tabletops by DeFrae
To give an environment that extra bit of individuality as well as utilising space to its potential, DeFrae offer a bespoke tabletop design service.
Tabletops are manufactured to your exact size, edge shape, trim, style and also thickness.
Available in a wide choice of finishes including solid hardwood, werzalit, laminate, marble, quartz, granite, polished concrete, zinc and veneer.
View our range of tabletops here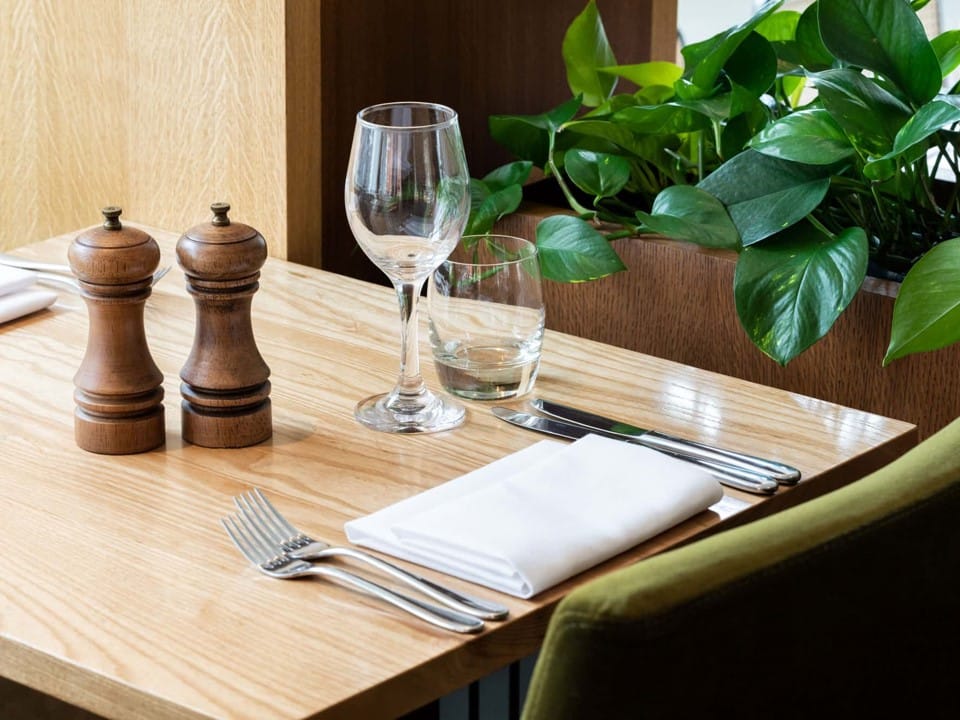 Majority are produced here in the UK and suitable for any contract environment including hotels, restaurants, bars and coffee shops.
Styled to your exact specifications and the team are able to help with any questions.
Need someone to come over and measure?  Our highly skilled team can come to your premises for a no obligation quote.  Additionally we can bring a long a range of sample tabletops too.
Please call our sales team or email us here to obtain complimentary samples, finishes, advice and quotations.
We are here to help.
All our tabletops are guaranteed for heavy duty contract use.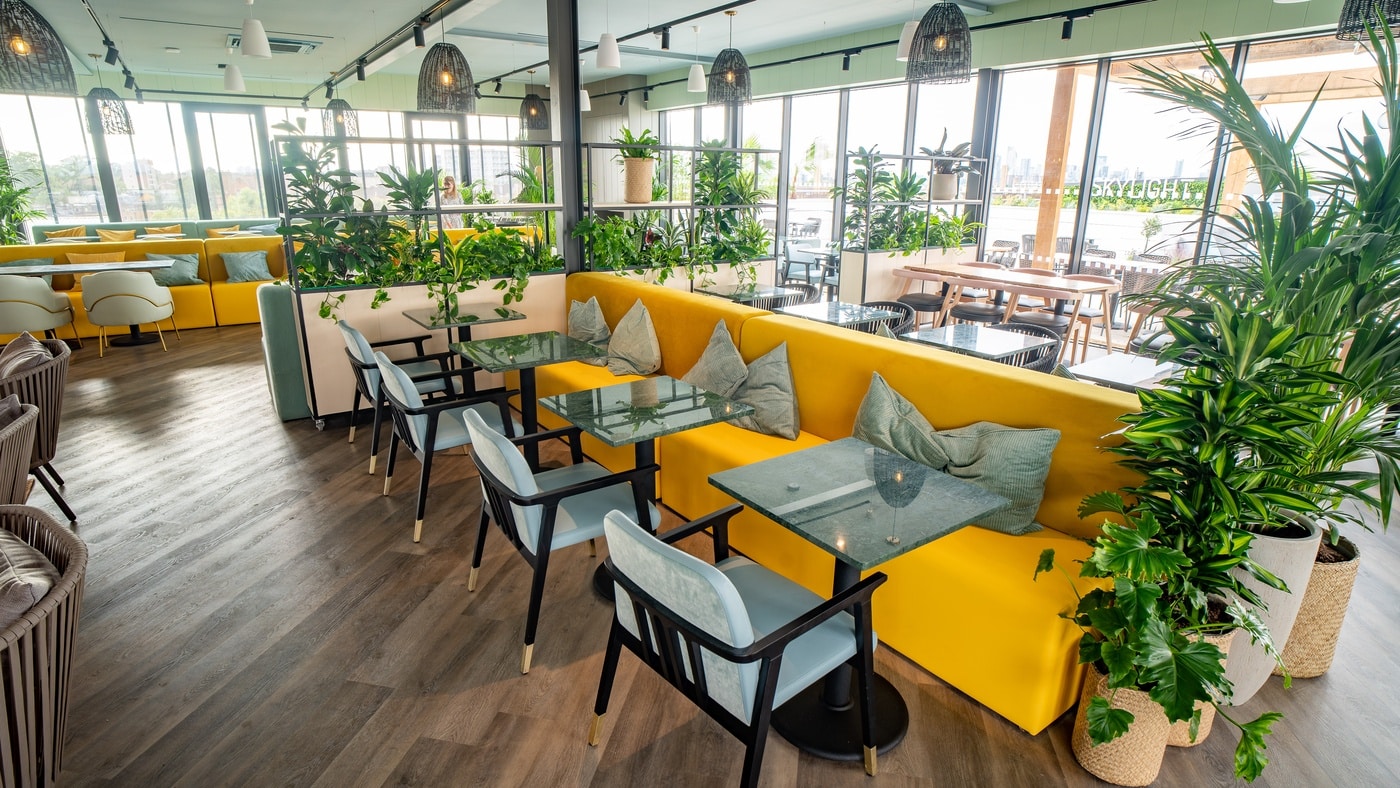 Stone Tabletops by DeFrae
Marble, Granite, Manufactured Quartz and Terrazzo Tabletops. DeFrae produce a wide range of stone tabletops for your restaurant, bar, hotel or coffee shop.
All our stone tabletops are made here in the UK from genuine marble, quartz or granite. MDF fixing plates also available for easy fixing to standard tablebases.
Edging also available in a range of styles including bullnose, half bullnose, under chamfer, du pont and gee.
Available in a wide range of bespoke sizes, colours and styles.
Download our
Stone Tabletops Brochure here >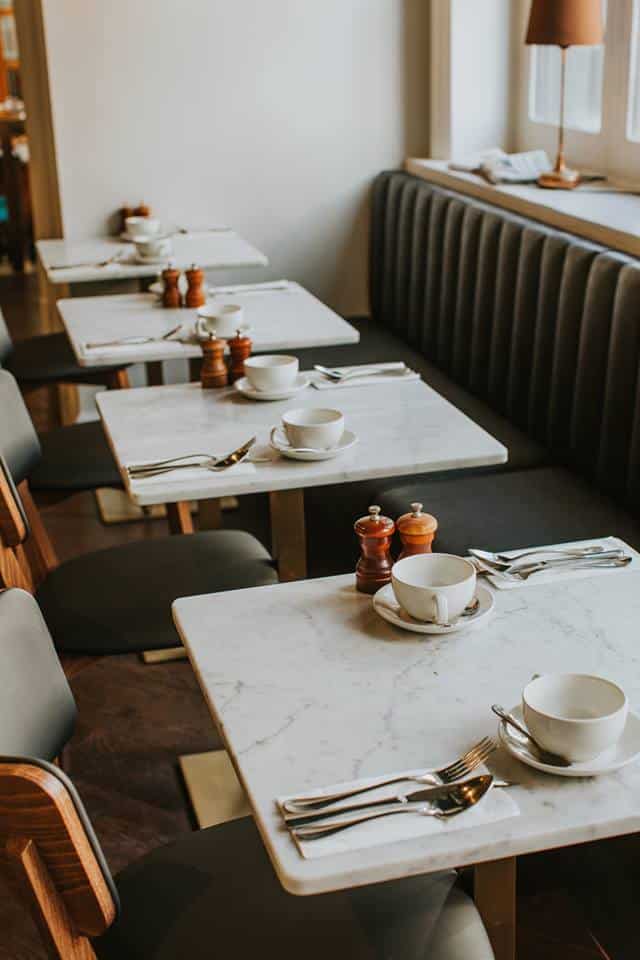 What size tables are used in restaurants?
A question we often get asked is 'what is the right size for a table in a restaurant?'
Well every restaurant is different and it depends on how much space you have.  Safety is paramount as there needs to be enough space between the tables for a safe and secure fire exit in case of emergencies.
In the UK we use millimetres or centimetres to measure the size of our tabletops.
Here we look at 3 sizing options – small (bars, coffee shop / cafe, small plates, coffee, sandwiches), medium (standard sizing for restaurants with a space for a plate, cutlery and drinks) and large.
What are the standard sizes for square tables in a restaurant?
We recommend square tables as they are easy to fit together to create larger rectangular tables when needed.  Having 2 seater tables allows for more flexibility in a restaurant, allowing for less seats to be wasted with no guests sat at them.
600 x 600mms (small 2 seater table)
700 x 700mms (standard 2 seater table)
900mms x 900mms (standard 4 seater table)
What are the standard sizes for round tables in a restaurant?
Round tables are quite flexible and intimate.  Its easy to add more chairs if you get your sizing requirements correct to squeeze that extra seat to the table.
600mms diameter (small 2 seater table)
700mms diameter (standard 2 seater table)
800mms diameter (large 2 seater table or 3 seater table)
1000mms diameter (standard 4 seater table)
1200mms diameter (standard 6 seater table)
1500mms diameter (standard 8 seater table)
1800mms diameter (standard 10 seater table)

What are the standard sizes of rectangular tables for my restaurant?
Making sure your rectangular tables are the same width as your square tables is important.  This will allow for tables
1000 x 600mms (small 4 seater table)
1200 x 700mms (standard 4 seater table)
1400 x 700mms (standard 6 seater table)
1600 x 700mms (standard 8 seater table)
All tables sizes will depend on the specific requirements of the restaurant area and will not work around these standard sizes.  We make bespoke tabletops to any non standard sizing.  Just contact us on 0208 504 5108 and we can help tailor make a package for you working to your existing space plans.