Restaurant Furniture
by DeFrae
Restaurant Furniture by DeFrae. A wide range of quality restaurant furniture including chairs, tables, stools, booth & banquette seating
RESTAURANT FURNITURE by DeFrae
At DeFrae Contract Furniture we specialise in all the restaurant furniture you need. Our full furniture range includes chairs, armchairs, tables, bar stools and bespoke banquette or bench seating. We have a very wide range of styles to suit all budgets and requirements that today's busy restaurants need.
Restaurant furniture refers to the tables, chairs, and other pieces of furniture used in a restaurant setting. It is important to choose the right furniture for your restaurant because it can affect the overall atmosphere and customer experience.
When selecting restaurant furniture, you should consider the following factors:
Style: The style of your furniture should match the overall theme and decor of your restaurant.
Comfort: Comfort is important because customers will be sitting in your furniture for long periods of time. Choose chairs and seating that are comfortable and supportive.
Durability: Restaurant furniture should be durable enough to withstand daily use and cleaning.
Size: Consider the size of your restaurant and choose furniture that is appropriate for the space.
Cost: Determine your budget and try to find furniture that fits within it.
There are many different types of restaurant furniture available, including tables, chairs, bar stools, booths, and outdoor furniture. It is important to choose the right furniture for your specific needs and style.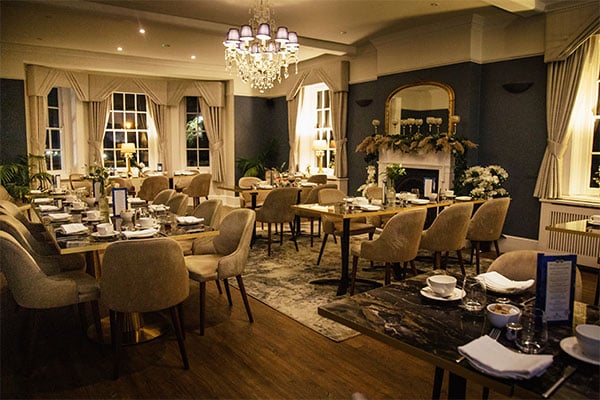 WHAT IS RESTAURANT FURNITURE?
When a customer walks into a restaurant, it's important that their first impression lasts. The instant psychological feeling of knowing what kind of experience you are likely to expect.  A tired restaurant layout and design can create a negative first experience for your guests.
Choosing the right furniture and layout within your budget restrictions is a fine balancing act.  Furnishing your restaurant is a large investment but will create a first impression that lasts if you get the layout and styling right.
Creating a layout that works is key to choosing the right restaurant furniture.  Maximising your revenue per head is fundamental but squeezing too many covers in can make the space feel cramped and uncomfortable for your guests. We recommend working with a designer to create a floor plan that works for you, your staff, and your customers.
Banquette seating (also known as banquet) including booths, curved or straight can help maximise covers as they require less space (as little as 10 square feet per person, compared to an average of 15sq.ft person for free standing furniture).
SHARABLE EXPERIENCES
In an age of social media channels like Facebook, Instagram and Tik Tok, the instant impression of your restaurant is more important than ever.  Experiences are shared instantly to friends and family so ensuring new customers are drawn to your restaurant because they have seen on social media the ambiance and styling of the restaurant.  This is sometimes as important as the food.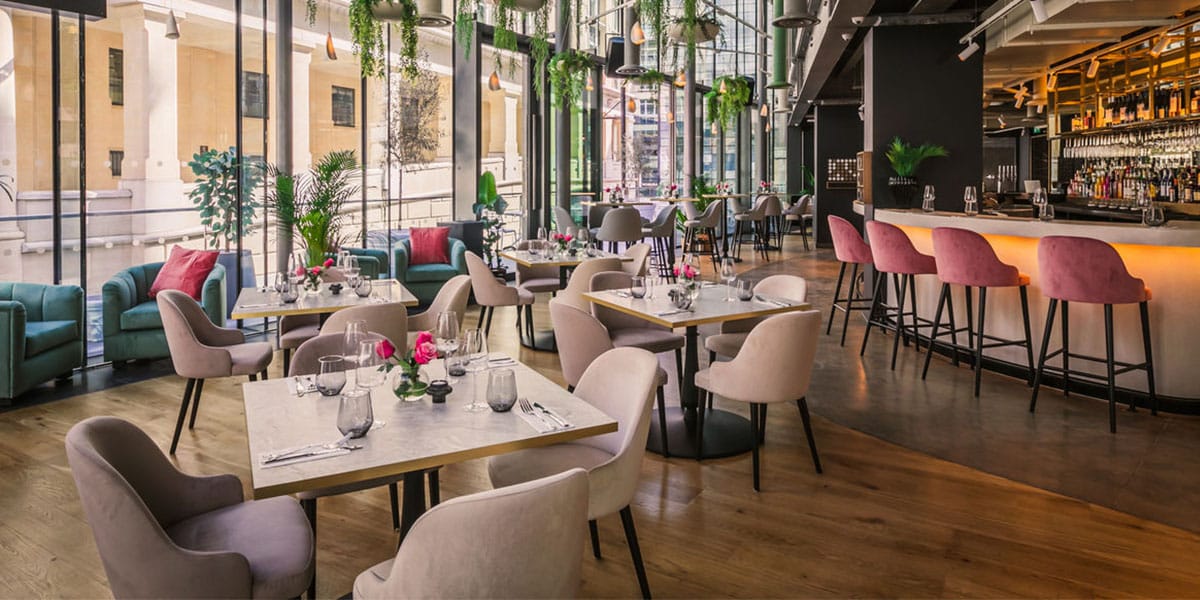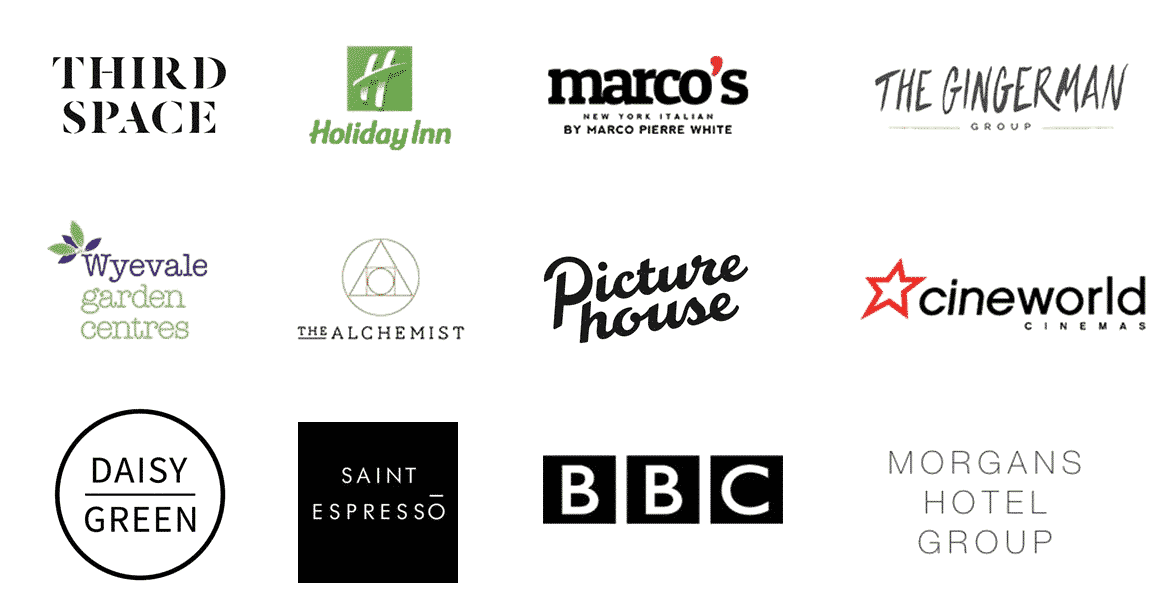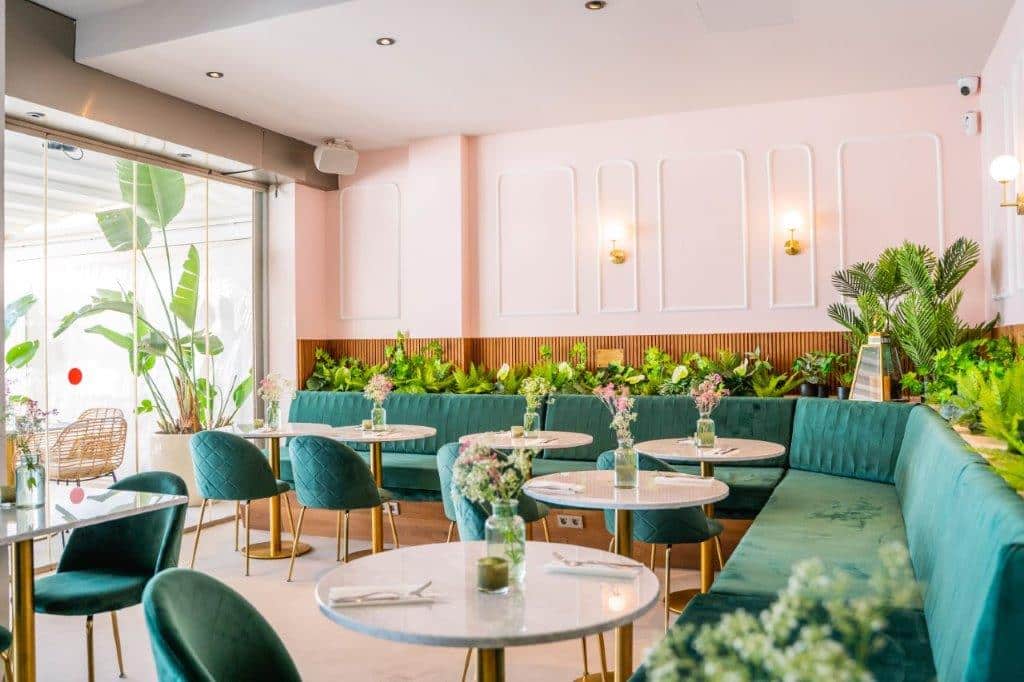 HOW MUCH DOES RESTAURANT FURNITURE COST?
Restaurant furniture has wide variations in price dependent on design, materials used, fabrics and origin of the products.
At DeFrae we don't have prices on our website as they can vary dramatically based on volume.
Have a good look through our site and contact us with any questions, we are here to help.
Furniture for restaurants need to adhere to FIRA (fire industry regulation association) codes using fire retardant Crib 5 (also known as BS 7177 / Source 5). A fire safety standard which commercial furniture must meet.  See FIRA's and British Furniture Confederation guide here > 
Don't worry if you are working to a tight budget. Creating a stunning look doesn't need to cost you a fortune, we will work to your budget requirements and source a range of chairs and furniture to give you the look you crave.
Have a look at our range and give us a call if you have found something elsewhere, we will match any written quote for like for like products.
SIDE CHAIRS »   ARMCHAIRS »   TABLES »   BESPOKE BANQUETTE SEATING »   OUTSIDE »   CONTACT US »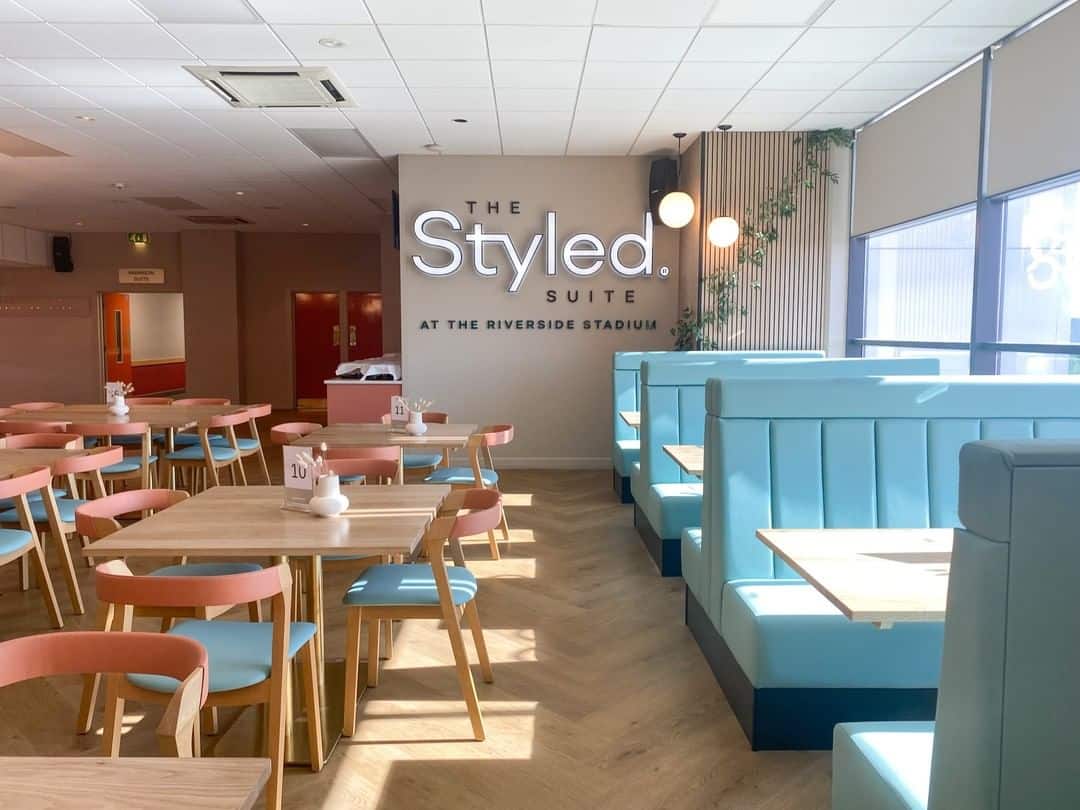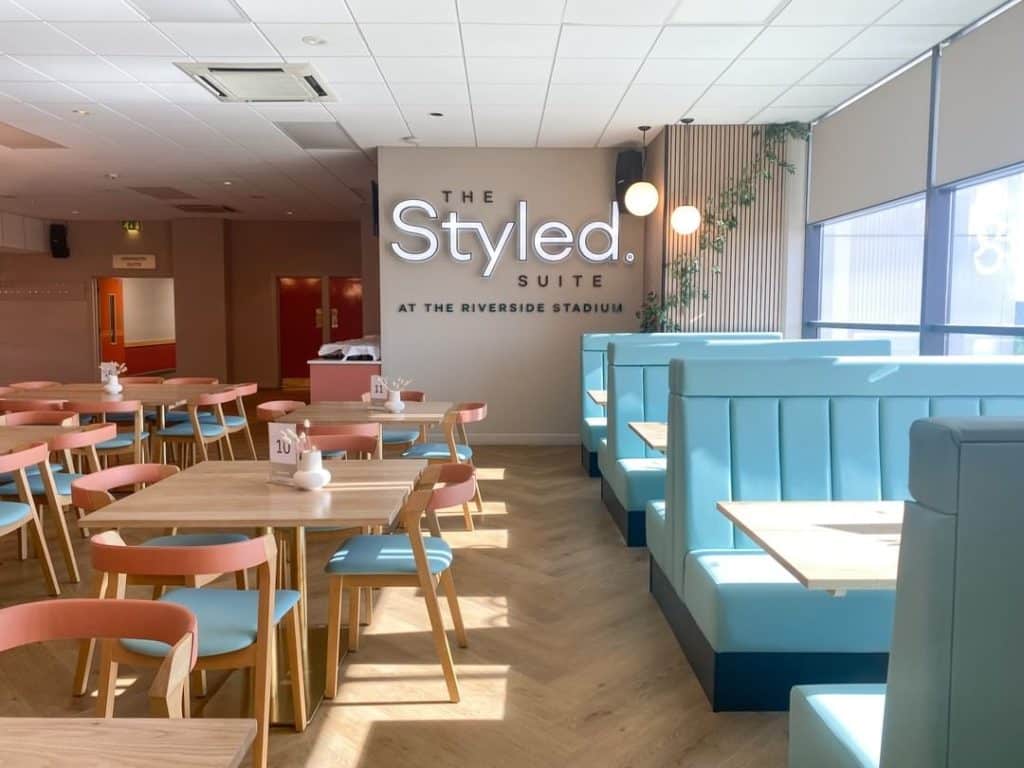 DeFrae have lots of options for restaurants large or small and a wealth of experience in delivering high quality, long lasting and guaranteed restaurant furniture, exactly when you need it.
From Chinese to Asian Fusion, Indian to Mexican, Turkish, Italian, British or French, make sure your furniture is as deliciously served as the food from your own kitchen.
Visit our Portfolio page for more inspiration or contact us for more information – OUR PORTOLIO »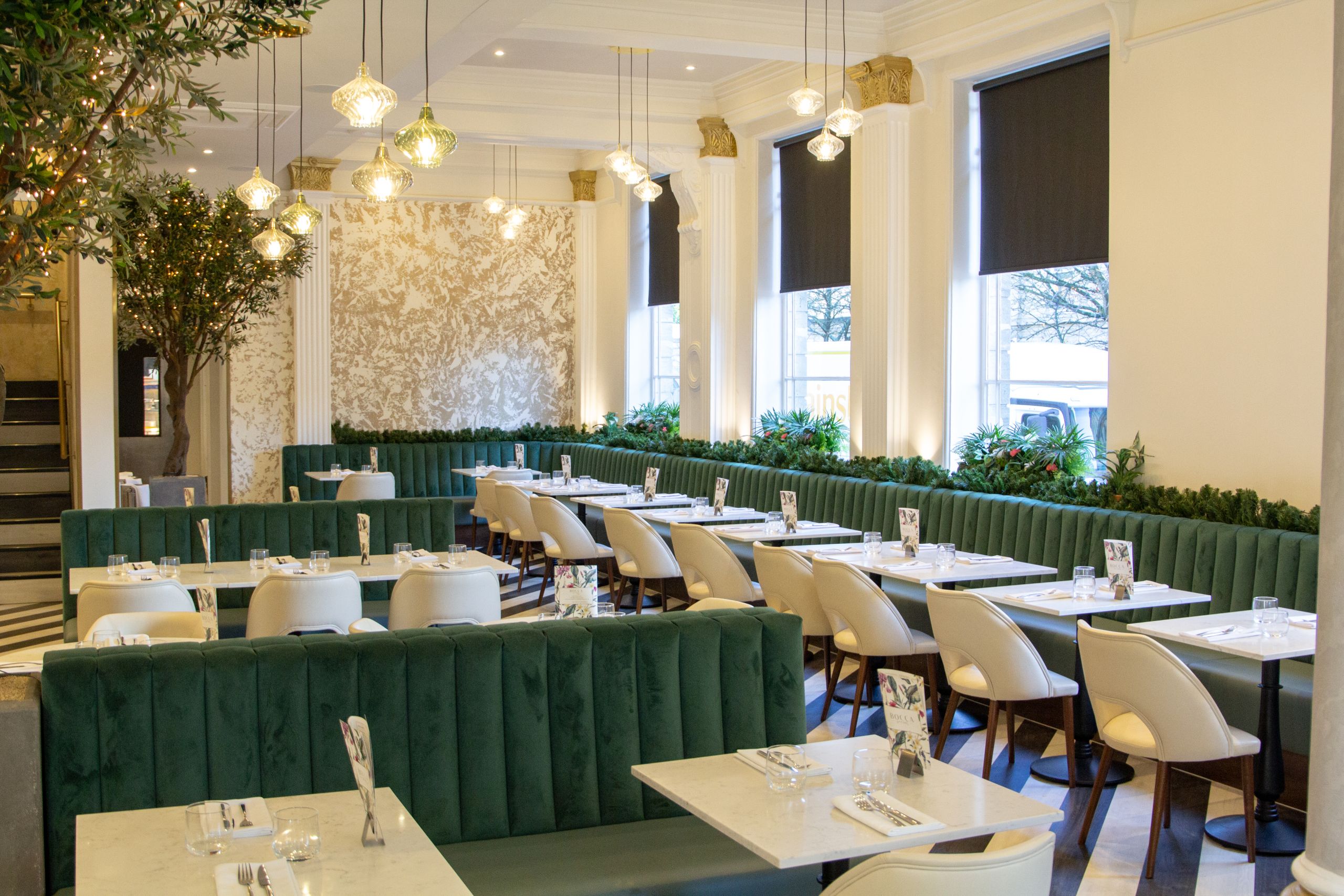 What are the types of furniture are used in a restaurant?
A restaurant can utilise a wide range of furniture options including side chairs, armchairs that range from fine dining to a more casual feel.
Wooden chairs are the still the most popular choice of chairs for restaurants.  Available in a range of wood stains with also the option of upholstered seats and backrests.
Do you want your customers to stay for a long time or do you want a quick turnover of tables?  Deciding on the type of chairs to suit is an important factor.  For instance, do you want to offer comfort and also encourage guests to stay longer?  If you want them to stay longer, then offer them comfort with upholstered chairs.
Our range of wooden chairs includes modern styles and also classic designs that never go out of style like our bentwood range or more contemporary curved back options.
Brass, Chrome or Copper metal caps (shoes or socks) offer that vintage art deco look.  Our metal cap chairs are available across select chairs and stools too.
Metal chairs upholstered in a range of fabrics including velvet or faux leather are again very popular nowadays with metal powder coated to black, brass, bronze, chrome or copper.
Finally, depending on the size of the restaurant, bar stools and lounge accent chairs are additional options creating space away from the main tables.
What size tables are used in restaurants?
A question we often get asked is 'what is the right size for a table in a restaurant?'
Well every restaurant is different and it depends on how much space you have.  Safety is paramount as there needs to be enough space between the tables for a safe and secure fire exit in case of emergencies.
In the UK we use millimetres or centimetres to measure the size of our tabletops.
Here we look at 3 sizing options – small (bars, coffee shop / cafe, small plates, coffee, sandwiches), medium (standard sizing for restaurants with a space for a plate, cutlery and drinks) and large.
Square Table Sizes
We recommend square tables as they are easy to fit together to create larger rectangular tables when needed.  Having 2 seater tables allows for more flexibility in a restaurant, allowing for less seats to be wasted with no guests sat at them.
600 x 600mms (small 2 seater table)
700 x 700mms (standard 2 seater table)
900mms x 900mms (standard 4 seater table)
Round Tables
Round tables are quite flexible and intimate.  Its easy to add more chairs if you get your sizing requirements correct to squeeze that extra seat to the table.
600mms diameter (small 2 seater table)
700mms diameter (standard 2 seater table)
800mms diameter (large 2 seater table or 3 seater table)
900mms diameter (standard 4 seater table)
1200mms diameter (standard 6 seater table)
1500mms diameter (standard 8 seater table)
1800mms diameter (standard 10 seater table)
Rectangular tables
Making sure your rectangular tables are the same width as your square tables is important.  This will allow for tables
1000 x 600mms (small 4 seater table)
1200 x 700mms (standard 4 seater table)
1400 x 700mms (standard 6 seater table)
1600 x 700mms (standard 8 seater table)
All tables sizes will depend on the specific requirements of the restaurant area and will not work around these standard sizes.  We make bespoke tabletops to any non standard sizing.  Just contact us on 0208 504 5108 and we can help tailor make a package for you working to your existing space plans.