Bespoke Banquette Seating by DeFrae
Bespoke seating, sometimes known as booth, banquet or banquette seating, adds a real touch of comfort and style to any restaurant, hotel, bar or coffee shop. DeFrae offer a wide range of styles including panelled back, button back, plain back, horizontal and also vertical fluting.
All our bespoke seating is handmade in the UK by our experienced craftsmen. Working together with you, your Architect or Designer, DeFrae's bespoke booth seating service includes a site survey, creation of initial plans, a wide choice of fabrics and final design sign-off. We will then manufacture, deliver and install within a timescale agreed by all parties. The seating can be upholstered in the fabric of your choice and is available in a variety of designs.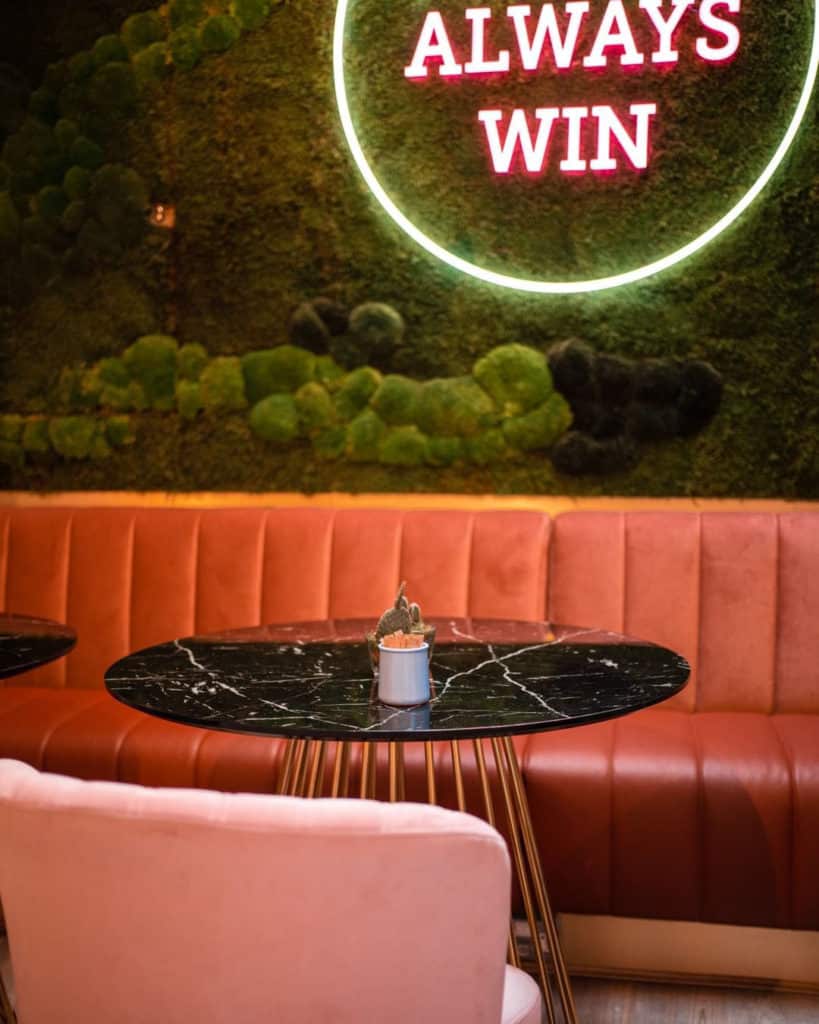 Vertical fluting brings a contemporary look to any venue. This style is popular for straight units as well as individual booths as shown in the recent projects below. This fluting is also available in various depths and scallop style rounded tops.  Vertical fluting adds definition and curvature to your bespoke banquette seating. Vertical Fluting is a modern choice for restaurants and dining environments alike.
Button back seating adds a contemporary yet classic look to any venue. The button back detailing is also very effective on bar fronts as shown below. This design completes any restaurant, hotel, nightclub or bar.
A plain back option gives a clean look to any contract environment and a head roll feature is also available. An ideal bespoke seating option for any restaurant, coffee shop, bar or hotel.
Create a retro and diner-style look, horizontal fluting is a great option. Dimensions are variable in order to create exactly the look you want for your bespoke seating and the number of rolls is up to you from 3 to 15, the choice is yours. That sweet style look can be created for Ice Cream parlours, Milkshake Bars and cafes.
Have existing banquette seating or booths?  Need to give them a refresh rather than add new seating?  Our re-upholstery service can help bring them back to life.
Choosing Your Fabrics
DeFrae work with all the largest suppliers of contract grade fabrics in the world.
If you are a designer or contractor call us for more information and range of pricing per square metre and our upholstery pages for our ranges of designer fabrics, leather and faux leathers.
GET A BANQUETTE SEATING QUOTE
What is Banquette Seating?
The word Banquette derives from French word banqueta and means literally, banc bench.
 Banquette seating is fixed to the wall and created exactly to the size requirements of each individual restaurant, hotel, coffee shop or also now many homes.
The back of the banquette is normally between 8-15 cms deep depending on the style chosen.  Deep button and fluted styles need a deeper back to allow the fabric to be rolled into place to create the final look.  The seat of the banquette is normally 45 cms deep.
There is no real industry standard or fire code for distances between tables that sit along from a banquette bench.
We would recommend around 40 cms as a minimum to allow for guests to exit safely in an emergency.
As with all our contract furniture, our bespoke seating is fire proofed and resistant to the strict EU and UK standards.