In April 2023, DeFrae visited the Salone Del Mobile at Fiera Milano just outside of Milan.  Known internationally as Milan Design Week, the event returned to its normal April date in the calendar after being disrupted by the Coronavirus outbreak.
This years theme focused on sustainability and creating connections.  Creating connections have been missed as many exhibitors and visitors were returning for the first time since April 2019.
Quoted from Wallpaper Salone del Mobile president, Maria Porro said ''People come to Salone to discover what's new from the brands, but also to create connections. And this is what we missed.  To create these connections, the layout of the fair is very important. So we decided to have an urbanistic approach. To think about the fair as a city, an ideal city, starting from the pavilions of Euroluce.'
With over 197 exhibitors and 350,000 visitors, Milan Design Week did not disappoint.
Sustainability
There is a growing focus on sustainability in the hospitality industry. Hotels and restaurants are adopting eco-friendly practices, using renewable energy sources, reducing waste, and incorporating sustainable materials in their designs.
Technology Integration
Technology continues to play a significant role in the hospitality industry. Hotels are embracing smart technology to enhance guest experiences, such as using mobile apps for check-in and keyless room entry, in-room automation systems, and personalized digital concierge services.
Unique and Local Experiences
Travelers are increasingly seeking unique and authentic experiences. Hospitality providers are incorporating local elements into their designs, such as local artwork, locally sourced materials, and cultural themes to create a sense of place and offer a more immersive experience for guests.
Wellness and Well-being:
Wellness-focused hospitality is gaining popularity. Hotels are incorporating wellness amenities such as fitness centres, spa facilities, yoga studios, and healthy dining options. Biophilic design principles, which connect people with nature, are also being embraced to enhance guest well-being.
Flexible Spaces:
The concept of flexible spaces is becoming more prevalent in the hospitality industry. Hotels are designing multifunctional areas that can be adapted for various purposes, such as co-working spaces, event venues, or communal areas that foster social interaction.
Personalisation:
Personalised experiences are highly valued by guests. Hospitality providers are using data and technology to understand guest preferences and tailor their services accordingly. This can include personalized room configurations, customized menus, and targeted recommendations based on individual preferences.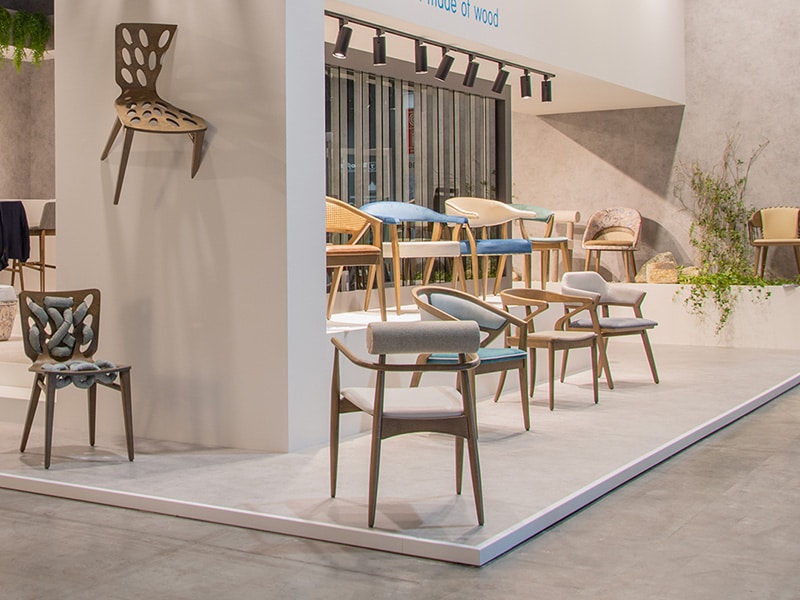 Throughout the event it was clear to see that this years fabric of choice was bouclé. Bouclé is yarn with loops producing a rough, nubby appearance on woven or knitted fabrics.
Is Bouclé ok for contract use?  In a word, yes.  DeFrae Contract Furniture have now sourced a range of Bouclé suitable for contract use made from recycled polyester. As a fabric bouclé is a durable fabric woven using 100% Repreve recycled polyester, includes a flurocarbon (PFC) free easy clean treatment and halogen free FR. Leopold is fully REACH compliant and manufactured to Oeko Tex Standard 100.
Available in a wide palette of colours to complement almost any colour scheme.   See our Leopold range from Sunbury Design which exceeds all contract FR test with 90,000 rub test durability.
Throughout Milan Design Week, bouclé was definitely the fabric of choice over taking Velvet and faux leather.
Combined with black wooden or metal frames seemed to be the theme this year.
Cleaning bouclé isn't as straight forward as wipe clean faux leather or some velvets.  So if your customers are drinking lots of red wine or dyed drinks such as cocktails or you serve lots of colourings in your food sauces, then maybe bouclé isn't for you.
A feature of Milan Design Week was the earthy ranges of cane, wicker, weave and rope style furniture.
Cane backed chairs are having a renaissance, with stunning bentwood or metal frames, curved with variations of cane in a wide range of colours.
All the major contract furniture brands showcased cane back variants of their chairs and stools.  Here are some of the latest options.
To see our range of cane of wicker furniture
Outdoor furniture that is so good it looks great indoors too. With a mix of polypropylene, recyclable materials, metal and even teak and pine wood, rope back and weave chairs are still a highlight of the show.
Nowadays with more people working from home or away from their offices, ensuring your outdoor furniture is robust, stylistic and will keep your guests with you, is more important than ever.  Throughout the show the trend of  modern rope detailing which is simple, summery, with a nautical look.  Rope and weave designs were prevalent throughout the show.